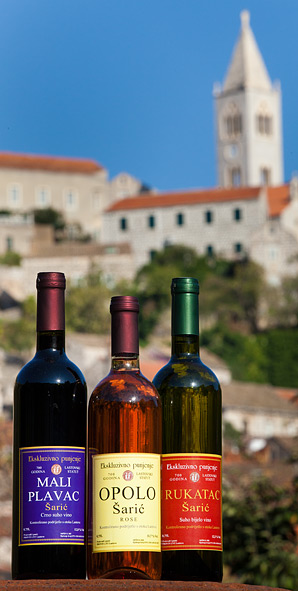 Blog
The secret of our success lies in the small fields and valleys of the island Lastovo where our ancestors had carefully cultivated the vineyards by planting the first vines of rukatac and plavac mali. In order to preserve a century old family tradition, their descendants started to cultivate new vineyards in 1992 with the introduction of a modern winemaking technology. Traditional sales of wine have been replaced by the sale of bottled ones.
Šarić wine cellar
On the foundation of the old wine cellar we built the new,  modern equipped one in 2008. It revives a family production, but also offers new products and features. The wine cellar is situated at the foot of the village Lastovo, in the area " Gornja Luka", known also as the place of the major event during the carnival days called " cujanje Poklada",  meaning the descending of Carnival. Stainless steel vats are used for the production and storage of dry white wine Rukatac and rosé wine Opolo. Slavonian oak barrels are used for traditional production of red wine Plavac Mali , and recently also for red wine Merlot.
Wine tasting
For all winelovers and those who are about to become , we offer the wine cellar tour that includes tasting of top quality wines and delicious local specialities.